By Lionel Brahim Brodie III, et al.

Franklin Delano Roosevelt Park. Early August, 2023. Superheroes from Philadelphia's Running Community assembled (YEP, like the Avengers) to jam in the new Nike InfinityRN 4. The technical and artistic backstory of this shoe revolves around "all–inclusive support." A diverse group of individuals from different Clubs and Crews was essential – runners "supporting" runners and Philly "supporting" Philly – to really tell this story.
Photos courtesy of Samantha Choy @sammysleeps

We have been logging miles in the Infinity since its release this August. A versatile trainer for folks looking for everyday stability and/or a high–cushioned racing option; I'm adding to my arsenal as I begin to ramp up mileage for a few Autumn races. Before running the gauntlet (obvious pun, definitely intended) of the tech and specs, some of the Avengers hit us with their thoughts:

Chris K – Original Propaganda Athletic Club – The Infinity feels very supportive. The cushion is like memory foam for my feet with some bounce.

Jesse K – Chasing Trail, The Dry Run & Sober Social, and EarlyMiles™ – I really appreciate the wider toe box and overall width. I've found my big feet haven't fit well in some other shoes before, but the Infinity feels quite comfortable.

María P – T3 Philly and South Philly Striders – Like a blanket cradling my feet: cushiony and supportive.

Freddy M – Wynnefield Track Club – Love the Nike ReactX InfinityRN 4! Super comfy with great energy return! Definitely one of my favorite daily trainers and everyday walking shoe!

Yulissa R – Nemesis Fitness – comfortable and smooth.

Joshua P – Swaggahouse Run Club – This version of the Infinity is a good combination of bounce and responsiveness with a great amount of arch support! To Infinity & Beyond…

The Tech Talk:

*this shoe snuggles with your foot; we recommend ordering a half–size up*

Cushioning: Super High
The more cushioning that you have underfoot, the softer and more comfortable your running experience can be. Cushioning helps soften impact as your feet hit the ground. ReactX foam gives you an incredibly smooth feeling, helping you push your limits.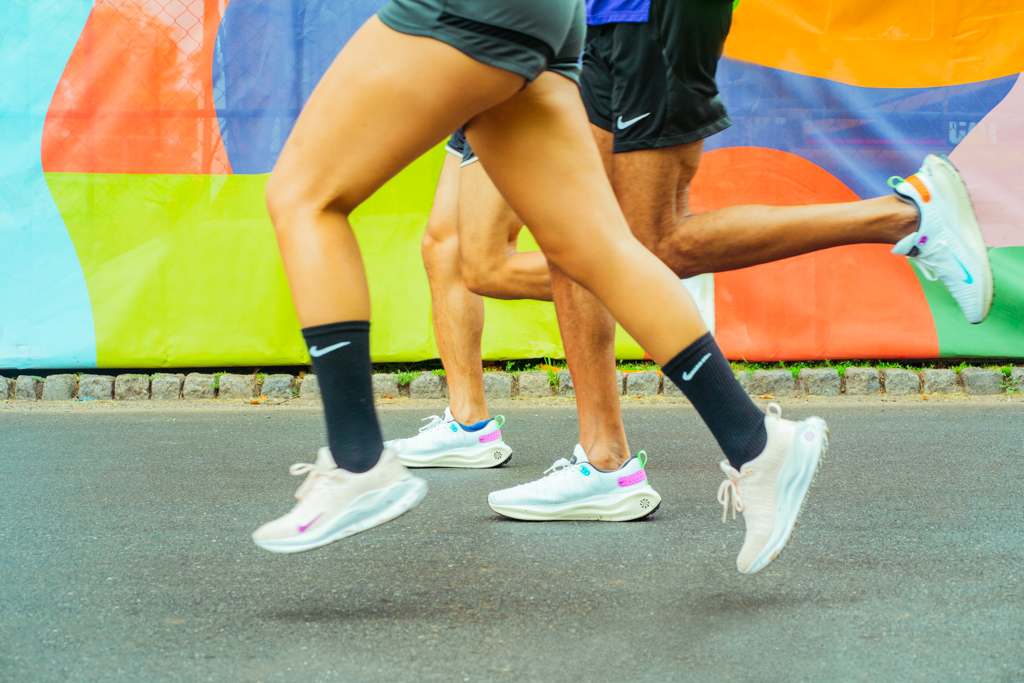 Support: High
The more supportive the shoe, the more stability it can give to your natural stride. A combination of tuned support and intentionally placed cushioning helps you feel secure with every step. A curved outsole helps your foot rock smoothly from heel to toe and through your stride to footstrike. It makes every step feel more natural and adds efficiency to your run, helping you waste less energy as you hit your stride. A new internal Flyknit fit band (like a rubber band around the middle of your foot) offers elastic, secure support.

Responsiveness: Moderate
The more responsive the shoe, the more energy return you can get back with each step. Whether you want to run a little bit faster or with a little less effort, responsive shoes help give you slightly more spring in your step to get more out of your run. ReactX foam gives you +13% energy return compared to React foam, helping you stay fresh and bouncy during your run.

Contained Breathability
A water–repellent liner in the toe helps keep you dry when the weather turns.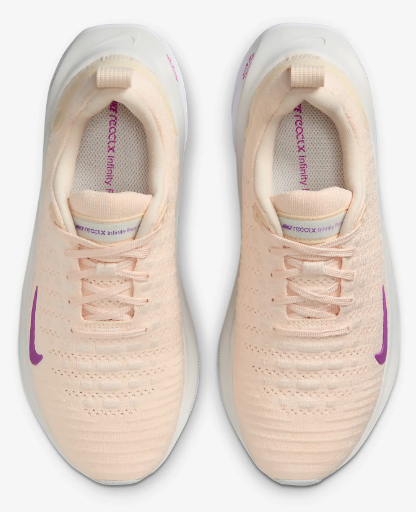 The Specs:

Weight – 10.9oz (men's size 10.5), 8.5oz (women's size 8)
Heel–To–Toe Drop – 10mm

The Key Features:
• Made with all–new Nike ReactX foam, which gives you 13% more energy return compared to Nike React foam
• Nike ReactX reduces the carbon footprint of the midsole by at least 43% compared to Nike React foam, so it helps support the planet too
• Coupling of the ReactX foam with Nike Running's best fitting Flyknit yet, so you can take off anytime, anywhere with secure upper support and breathability. It's the kind of shoe that can grant you that priceless peace of mind to go faster and farther thanks to an intuitive design that supports every stride
The Finish Line:

The Nike InfinityRN 4 is available NOW! Our staff of experts can answer any questions you have about this shoe and other product in our shops. Visit one of our 4 locations (Center City, University City, Manayunk, or Glen Mills), schedule a gait analysis, or order a pair from our online shop today!