by Lionel Brahim Brodie III
Warning: Philadelphia Runner will be the ONLY store in our area with access to the items below. While we'd normally recommend you immediately sharing every PR post with everyone you know, this time we strongly encourage you SHOP FIRST! Then share with everyone you know. It'll be our little secret…..
Let's cut right to the chase: 99.99999% of the time, to wear EXACTLY what the professionals wear, we'd have to turn pro. Not this time! World–class athletes need world–class design…..and so do we, right? That's why On paired up with cult French running retailer DISTANCE, to create a special edition that celebrates run culture in all its glory. Complete with the signature green of the On Athletics Club, we're all invited to be a part of the team.
This incredibly beautiful kit made its debut this June at On : Track : Nights in Paris, France. It was only available at the Distance Gallery on Rue des Filles du Calvaire…..until now. Please. Do. Not. Sleep. On. This!
Here's what you can find both online and at our Center City location while supplies last:
PERFORMANCE–T LIGHT DISTANCE – lightweight, high–performance running tee engineered with DryTec™ to handle some serious sweat. Keeps you cool, even as your run heats up. It's not only more breathable, but dries quickly too. With streamlined performance woven into every fiber, the intelligent bonded seams and the overall fit are designed for unparalleled ease of movement. No chafing or distractions; it just flows with you.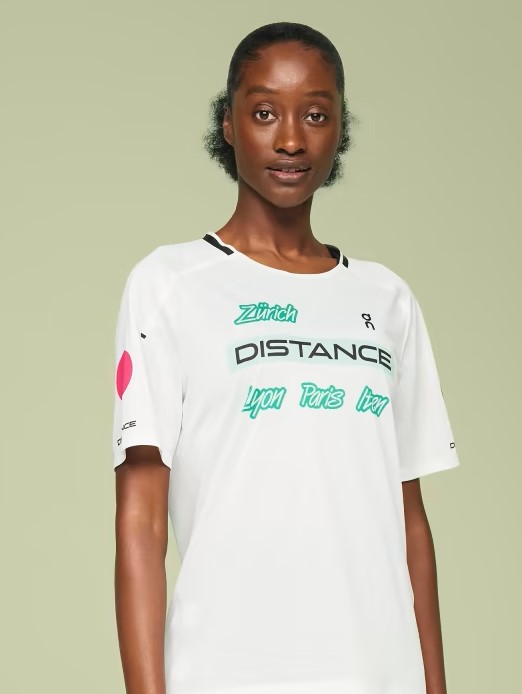 WOMEN'S CROP TOP LIGHT DISTANCE – crop top with an integrated bra providing comfort and support in a super–lightweight silhouette. When split seconds separate you from the win, the little details matter. Pared–back design focuses on comfort and performance and a light padded and soft inner lining offers high–speed support – even during your most powerful performances. Leave the sweat at the starting blocks. Thanks to the breathable mesh layer and barely–there seams, you're comfortable from warm–up to the podium. Plus, laser–cut perforations and moisture–wicking fabric keep you cool…even when your run heats up.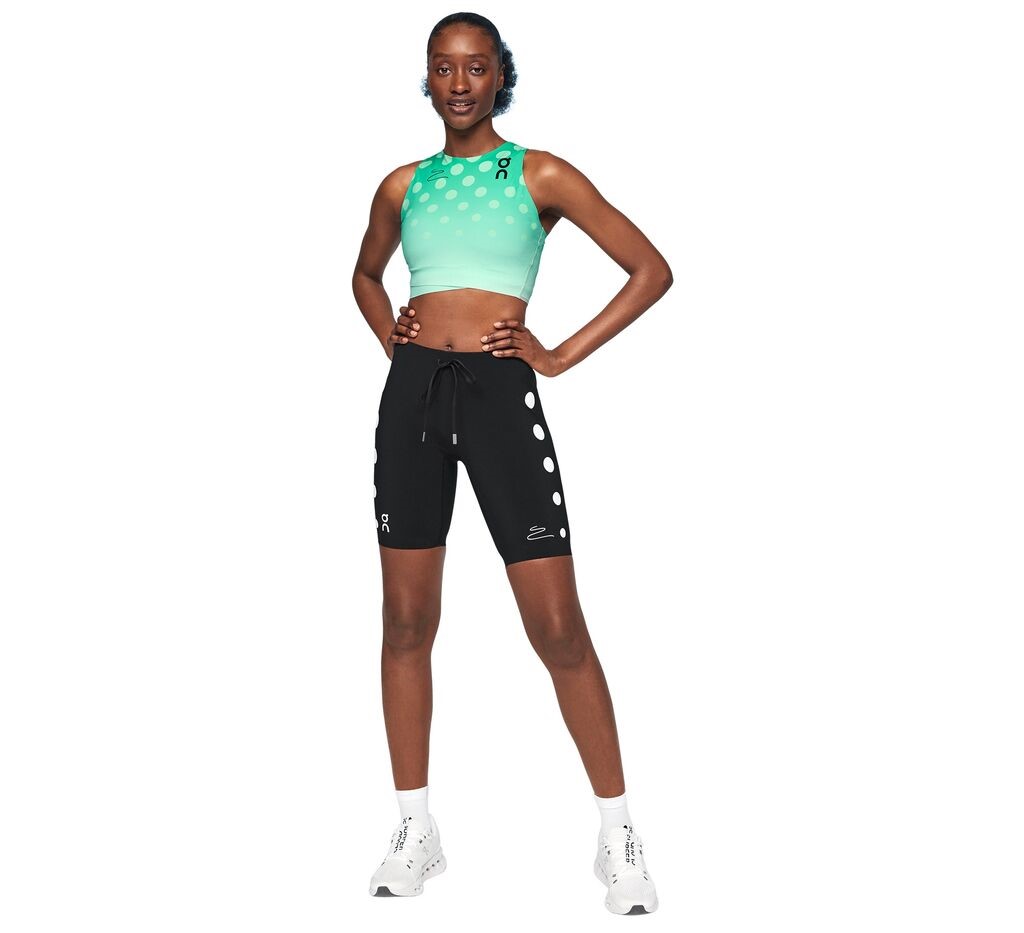 MEN'S TANK TOP LIGHT DISTANCE – lightweight performance tank top for smashing PBs to podium finishes…inspired by the pros. All the better to take you further, faster. Constructed with ultralight fabric because when you're going for a PB, every gram helps. Complete with bonded seams for no distractions; you can keep your head in the race. Made to kit out the very best, this is tried, tested and approved by On's world–class runners. With a modern racerback construction, your arms and shoulders are free to power you forward.
MEN'S MARATHON SHORT TIGHT DISTANCE – ultra–light performance tights, given the nod by the pros, are for ambitious runners aiming for the podium. Weighing in at just 100g, these are made for pure performance. Ultra–light and aerodynamic, the cord closure system also ensures a great fit. No speed limits, guaranteed. Whether it's your music or your mid–run snack, the streamlined design includes a zipped back pocket to secure your essentials, with no hard points to distract you. World–class athletes need world–class design.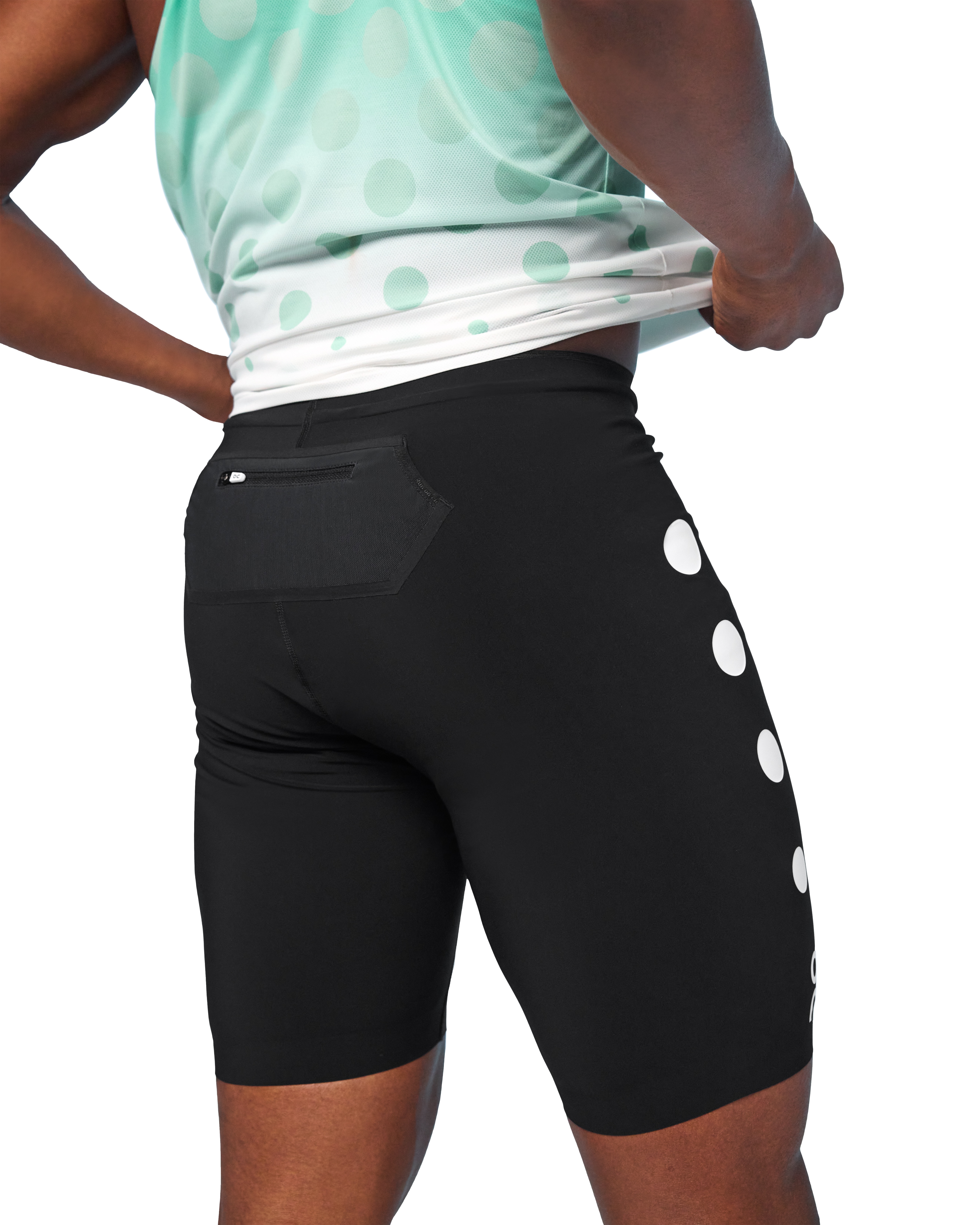 Made in collaboration with French running retailer DISTANCE, this special collection from On pays homage to run culture and contemporary design. Complete with the signature green of the On Athletics Club and a unique polka dot finish on the crop, tank, and tights, we all get to be a part of the crew who ripped that Parisian track in June.
This collection from On is extremely limited and once items are gone – they are GONE. We again suggest buying your own products first…..then telling your friends! But shhhhh, you didn't hear that from us.
One last "pro" tip from your Philadelphia Runner Family: we have other stylish options from On in stock. Check our full assortment HERE.