Philadelphian Perspectives is our new series in name, but a concept that has been authentic for us for the last 2 decades: highlighting the individuals who give the Philadelphia Running Community its flavor. A lot of us know our favorite Philly races, as well as bucket–list competitions for which we are willing to travel. We'll cover all of those topics with Perspectives, hoping these accounts from your fellow runners are inspiring and relatable.
We recently caught up with Philadelphia Runner Ethan Hermann for an insight, in his own words, into one of the best weekends of his life. Originally shared on Thoughts Come Alive on May 2, 2023.....
It All Comes Down to You
photo context: this is a photo i took in the early hours of june in 2019, mere minutes before i left to take a megabus home for summer break. i had finished my first year at drexel, spent the evening at my brother's house celebrating before returning home for a restless night of sleep, excited to get back to pittsburgh for one last summer as a camp counselor and someone who had the summer at his fingertips. it was a perfect sunrise. it was my last time seeing it from the 17th floor of my freshman dormitory. it was special. it made me nostalgic, just like broad street weekend does best.
This past weekend was one of the best weekends of my life.
It did not include a miraculous change of form. A world-bending realization. It did not include a majestic feat of my life, nor did it make anything different out of me. It was just a weekend that encapsulated the people and things that make me happiest, and in the city that makes it all happen.
As my last class ended on Thursday at 5:45pm, my weekend began. My Thursday? Well, it was just beginning. I had an unsanctioned relay race to compete in, of course. Doesn't everyone have that on their Thursday calendar?
Thanks to the wonderful folks and good friends of mine over at Original Propaganda Athletic Club, they hosted their fifth annual OPAC Relays. They are to align with the historic Penn Relays that happen on the same weekend, but to highlight the community and competitive alike in the Philadelphia region in an awesome way. 21 teams competed in a 4×4-ish format.
My team was comprised of a dear friend and teammate in Sarah, a fellow Philly Track Club runner in Caitlin who runs for the elite women of Liberty Track Club, and a newly found friend in Jed who lives in West Philly.
We were the only team with two women to advance to the finals [I think?] and we had such a blast. Ripping ~400s on cobblestone and public streets on a Thursday night sure as hell is one way to feel alive.
We finished fifth overall in the finals after winning our prelim heat.
I don't think I've smiled that much in one evening in a long, long time.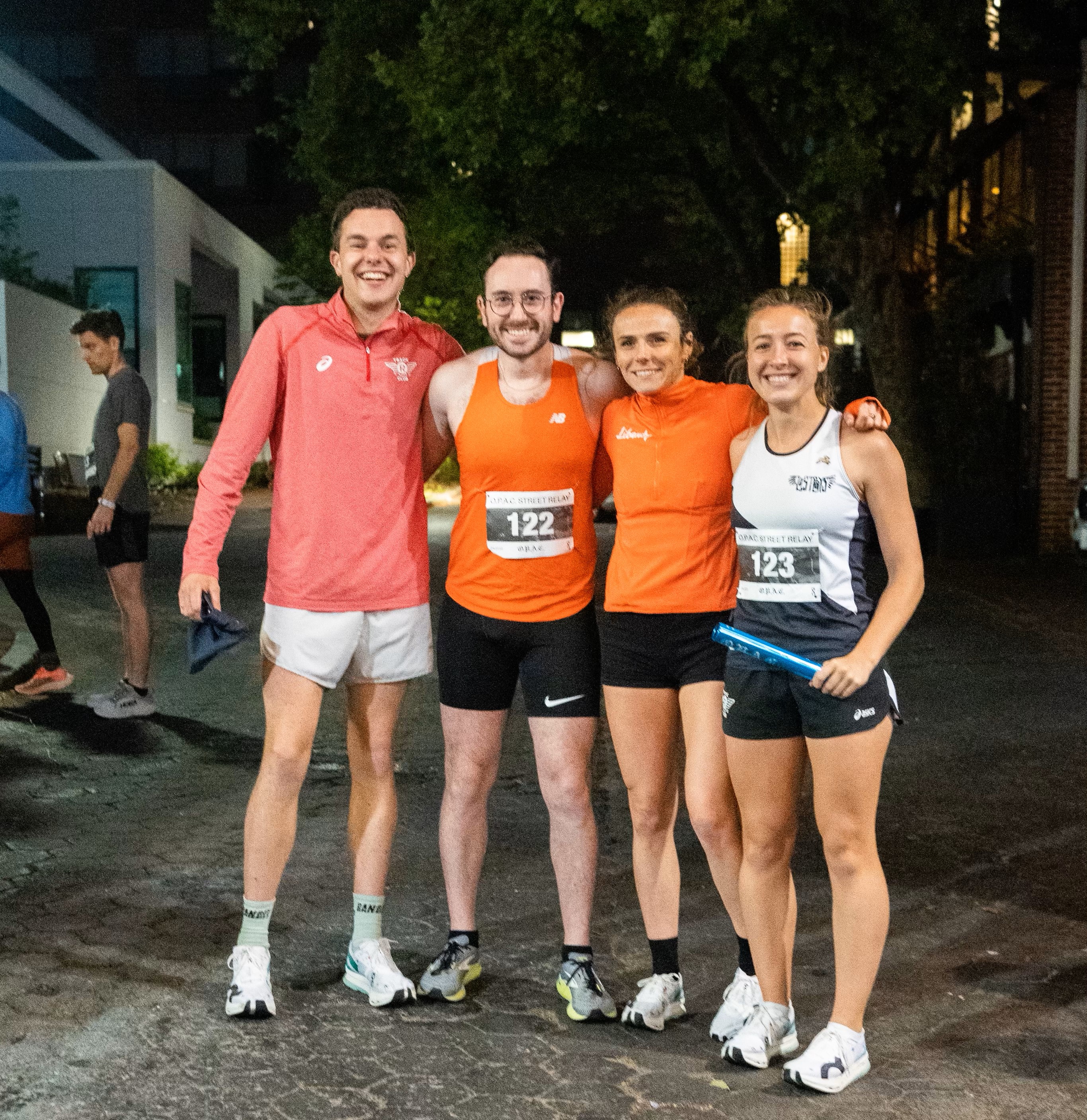 Ethan – Jed – Caitlin – Sarah
A dream team if I've ever seen one.
On Friday, I went for a run. It was slightly rainy, reminding me of home. I woke up early to run with my dear friend Gabriella, one of the brightest lights who exists in this world today. Gabriella is a person who I think the whole world needs, as she always reminds us to smile more, live life a little more sweeter than we already do, and to take more photos of what we do.
It is her job, as a wedding photographer — but that doesn't make her wrong.
After showering, I went to Center City to collect my information and race bib for the second iconic race of the weekend, the Broad Street Run. The run that catapulted me into realizing how good running can be, all the way back in May of 2019. This race holds a special place in my heart, very close and dear.
Except, this year I was not racing. Lots of imbalances has meant my 2023 running has been much less fruitful than I would like to admit so far. I am, thankfully, fit enough to help out others.
I secured my bib, my info, and my orders, and after a lovely stop at the Reading Terminal Market for one of my favorite lunches in the world [the #3 from The Original Turkey] I headed back home. I bartended on Friday night, with the best folks at Bad Brother. Working there has been such a great addition to my life. It was a rainy Friday, lots of my friends ran at Penn Relays in the onslaught of precipitation. My dear friend Vicente, one of the best people on this goddamn Earth, came over after his last race of his spring season. We shared some laughs, some drinks, and had a great time.
Cut to Saturday.
Once again, raining. I was already content and happy, but not even a half-mile into the run, I ran into a hometown friend in Tristan. He was there for the prestigious Penn Relays, the iconic track meet put on at the University of Pennsylvania each April. I caught some miles with him and his awesome teammate, making my Saturday run a lot more special.
What was planned to be a five-mile trot became an eight and a half run with some great conversation in the majority of it. It was a major win. I enjoyed it dearly.
Coupled with a good lunch, and some lovely time spent with one of the best people in the world [aka Hannah], I went to work again. Saturday night was busy as hell, and I think I didn't drink water from 6:30-9pm as I was so encapsulated with what I needed to do. I love what I do there. It is always a blast to work at [in my, incredibly biased opinion] the best bar in Philadelphia.
I got off at 10:30pm. I went home, had a chicken caesar salad, watched some highlights, and went to bed. I was needed the next day.
Sunday, Broad Street day. The day Philadelphia is the most alive.
I was in charge of pacing a ray of sunlight for a human in my friend Abigail. She is in many ways so similar to me, in the ways she runs a lot, is almost always smiling in every photo of her running, and also gets overly excited about Spotify and artists.
Either way, I was in charge of 5:40s down Broad Street for 10 miles.
After working my way through the crowds of the fast men and women to find her, we were working smoothly on. Over time, we accumulated many accompanying runners. Some stayed for a long time, many for just a little while. In the end, she crushed it. My pacing skills remain trustworthy, and I had such a remarkable time running down Broad Street again.
Even in the year where I couldn't race to my abilities, Broad could bring the magic it always has. It was special. As we neared the last half mile I started to well up with tears, knowing how much it meant to the women I was pacing. I hadn't felt that since the fall of 2019 when I helped my close friend Lauren get to a huge marathon personal best.
It is when the precipice of something so new crashes into reality that I realize the gravity of it all. How much it really means.
Pacing people, and being able to witness firsthand how beautiful it is for them — I can't think of anything better.
There is something so fulfilling about being there for people. It could be about reliability, maybe my desire to be helpful for others and be someone who can help out — which my parents instilled into me from day 1 — or maybe it's just because I feel the most alive doing so.
Either way, I turned around at the finish line to just see a genuine look of happiness on Abigail's face. It reminded me of how real, and how joyous running can be. As someone who has had a very negative relationship with running this year due to imbalances, injuries and annoyances, it made me so flushed with second-hand joy.
It felt right to see what running can bring for the good people again.
And so, I stood in the cold rain, shivering in a singlet and short shorts, texting any and every person I could about how happy I was.
I spent my Sunday afternoon with my favorite running people and running-adjacent people in the city [and at this point, the world] and spent the evening with some of my favorite people just enjoying life.
I went to bed smiling on Sunday night.
I think I'd call that a weekend well spent.
As this new week began, I found myself reflecting a lot on the idea of nostalgia. This was my last Broad Street as a college student. When I was 19, bursting onto the scene and not knowing what my future would hold. I've run Broad Street four separate times now. Each has been a wonderful, uplifting experience for me. I ran two PR's in my first two races. I overcame COVID and had a blast last year.
This year, I was able to be of use in the way I love to be the most.
On Monday I was diving into some of the songs that stirred up the most amounts of nostalgia in my heart. I stumbled upon a small playlist I made [deleted, or maybe just archived ;)] that included songs that reminded me of the movie Almost Famous. Not only is it my father's favorite movie, but it is also one of mine. A beautiful lesson in coming of age, rock and roll, the importance of the press, and just how special music can be.
Of course, this movie wasn't about Fleetwood Mac. However, I associate that era of existence with that band. One of the most iconic bands to ever grace stages. Their magnum opus, the all-well-credited Rumours deserves every flower it receives. Of course, if you ask the one the only Ben Lebowitz [and I agree with this] which album is the best, the answer is the project Buckingham Nicks featuring the two star players of the band that released in 1973.
However, my favorite song to ever come out of the brilliant minds of Fleetwood Mac is a song called "Gypsy" that reminds me what nostalgia should feel like in a song.
From the drum beat, to the late summer, Jackson Browne-on-"Running-On-Empty" piano, to the sensational vocals and the crooning goodness Nicks provides… This song brings together the prowess of a band with the beautifully bittersweet feelings for times that already happened.
This is, of course, a bittersweet song at its core. And yes, I know who is the impetus. But this song, in all its glory, makes me long for the lengthy summer days of my childhood where worries were small and joy was easily attained.
The weight of the world feels small when I hear this song. That's how I know it's special.
So when you have a weekend that leaves you loving life, go listen to your nostalgic favorites the next day. That's a cocktail for good emotions if I've ever made one. Shed a tear or two. Live life. It's goddamn worth it.
It all comes down to you.
Do you have a story that you would like to share, or a runner that you would like to see featured? Send us an email: brodie@philadelphiarunner.com.