Philadelphia Runners is our new series name for something that we have being doing for almost one score (that's twenty years for those keeping, um, score…..pun intended): highlighting the individuals and collectives who are spicing up Philly. Our beautiful, global city is filled with amazing people doing remarkable things. Several of these people happen to be runners, and some of those feats happen to be run-related. We recently caught up with Philadelphia Runner Dia Becker for an insight into her running journey, dealing with loss, and running like she writes: freewheeling and all heart.
Who are you? My name is Dia Becker. I'm a Philadelphia-based writer and the voice behind the Substack newsletter, Broke But Moisturized.
Who do you run and/or train with? My coach is Dylan Gearinger, who's the head coach at Marywood University. I started following him after he got 2nd at the Philly Marathon in 2021. Lucky for me, he offers private coaching to athletes of all abilities, because I'd been stuck at around an 8-minute pace for 10 years. As for a club, I run with O.P.A.C. on the rare occasion that I don't have a Saturday morning Italian lesson, and I'll ride for them throughout race season.
What is your title? Something like captain of Degenerate Track Club. I am a raver before I am a runner. Maybe that sounds antithetical to hiring a coach and all, but what's life if not a seductive balancing act? My friends brought me a pack of cigs to the finish line of the Philly Marathon. I haven't smoked in months, though. I'm a changed man, look at the range, man.
What is something that you feel is unique about your running history or journey? The events that plagued the last five years of my life changed my relationship with running forever. Trigger warning: lots of death. In 2018, I lost my 30-year-old sister to cervical cancer. Two years later, I lost my best friend since first grade (who was also my roommate in college, and again in adulthood when we moved to Philly) to an extremely rare and aggressive adrenal cancer; she's who got me into running. In 2021, I lost one of my best guy friends to fentanyl. Then in 2022, my brother-in-law died of a heart attack, leaving my two little nephews parentless, now being raised by my parents. Just typing all that makes me feel short of breath. My therapist calls me a rare case. But I pray at the church of the Sunday long run, carried by angels through every grueling mile.
On a lighter note, more self-deprecating note, I have zero athletic background. I would hide when we had to run the mile in gym class, and on the unlucky days that I got stuck doing it, boys would mimic my awkward, labored gait. God, it was mortifying. I got called fat all the time in school. But I watched my mom work her ass off to lose weight through good, old-fashioned diet and exercise—running, cycling, weighing out portions of chicken, all that—and I was inspired to make my own change. I'd get up every morning at 5 AM and run two miles before my shift at Dunkin Donuts. Then two miles became five, you know how this goes.
What was your first run with a group/club like? My first group runs in the city were uninspiring. It was like all these people who said they ran in a group for the social aspect didn't know how to socialize! I'd try chatting people up, nothing crazy… blank stares. Then I connected with Brodie and found my place at O.P.A.C. They're a more free-spirited, unconventional bunch.
What can someone expect if they come out to run with your group? If you run with O.P.A.C. you can expect to be tempted into drunk brunch post–run affairs. If you run with me, you'll have a listening ear for your whole life story. I'm curious about everyone.
What is your favorite race? The Philadelphia Distance Run. I say this as someone who consistently falls apart at mile 10 of the half marathon (maybe someday I'll sign up for one in tolerable weather). The PDR is just the kind of course that makes you feel like anything is possible.
What are you currently training for? I have races of literally every distance coming up. The Tracksmith/Trials of Miles Twilight 5k on 7/19 which [was] sick; I've never raced on a track before, and it [was] cool to cosplay as a real athlete. Then I'm running The Philly 10K, the PDR, the Steamtown Marathon, and probably other 5ks sprinkled throughout the fall. This interview caught me at a really strange and pivotal moment. I hired Dylan at the beginning of the year with the express goal of chasing a BQ. Then one morning last week, running some hellish repeats, watching myself totally give up on the last 800, it hit me: at this point in my running life, I care more about running a sub–20–minute 5K than a Boston qualifying marathon. I texted Dylan right away and said we gotta change gears. So that's where I'm at, and I feel really good about it.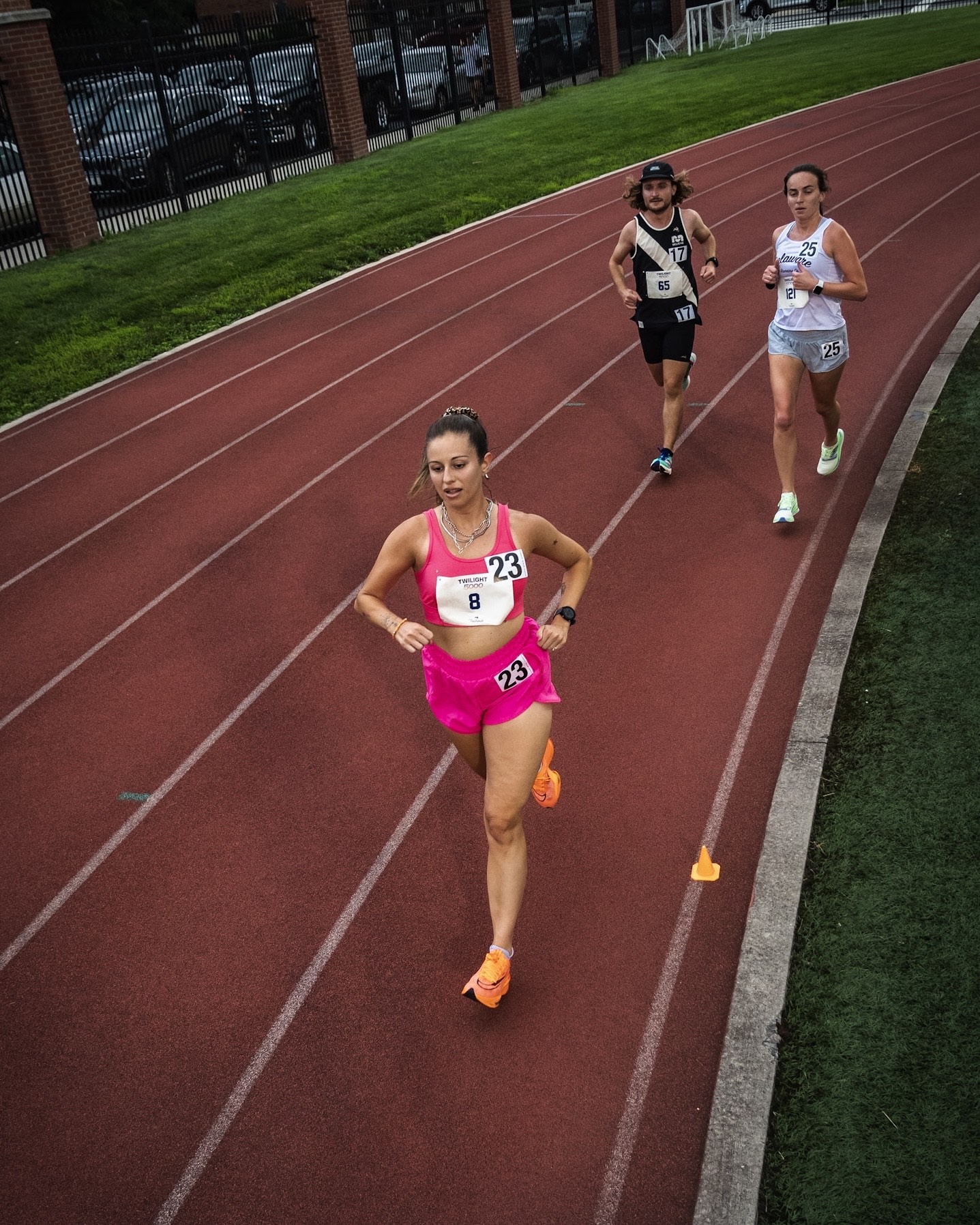 Photo cred: James Nelson, Jr. (@james_nelson_jr)
What shoe(s) are you currently running in? What is your favorite? My toxic trait is my unwavering belief that the Nike Alphafly is the only running shoe I can wear. I even bought Vaporflys to rotate in for easy runs, and have two pairs of barely worn HOKAs collecting dust, but I still reach for my Alphas most days. I'd tell you to prove me wrong, but I take comfort in delusion.
What apparel pieces are you currently running in? What is your favorite? My signature run fit is an oversized tie-dye and some off-brand shorts that I get for like, $20 on Amazon. To thine own self be true.
What accessory items are you currently running in? What is your favorite? Do socks count as an accessory or apparel? I'm a huge sock girl in general, so it's no surprise that I'm loyal to Feetures. I have an emotional support CamelBak hydration vest that is well-loved (i.e., smells terrible). Ciele caps. And I just got a SPIbelt that I'm obsessed with.
What fuel are you currently using for running? What is your favorite? I'm (mostly) caffeine-free, so I use the caffeine-free Gu gels religiously. My favorite flavor is campfire s'mores. Sometimes I'll take a few medjool dates instead… you know, when I'm feeling particularly analog.
When did you start running? When I was 19.
When does your club normally meet? O.P.A.C. meets at Eakins Oval on Saturday mornings at 9 AM. I've heard rumblings of Tuesday night lights and a Sunday long run being added to the mix, so let's cross our fingers.

When was your last big event (run, race, event)? I made a game-time decision to run the Haddonfield Adrenaline 5K in March, which, in retrospect, was kind of silly having just returned from the Middle East. Talk about an intimidating race. Tons of elite runners from local track clubs and colleges. It was a great experience for me, though—kind of my first real 5K. I think we need to send an O.P.A.C. crew next year.
Where do you normally run? I spend more time on the Schuylkill River Trail than in my own home. It's wild that I've lived in Philly for almost seven years and have never once tired of the SRT. I have a different run every single day.
Where do you normally train? I work full time at Comcast, so I have a membership to their insane, Equinox-style gym where I spend many a long lunch break. I'm also a member of Anytime Fitness which is great because it's 24-hour and you can use any of their locations. I take classes here and there: my best friend Rachel teaches boxing at Rumble; I like Barry's Bootcamp and Barre3.
Why did we ask to feature you? Because I run like I write: freewheeling and all heart.
Why do you do what you do? If there's one thing I've learned from watching the people I love most in this world die so young, it is to be dogged in pursuit of that which makes you feel alive. When I hit a 5-something pace on a 15-second stride, and it feels like my legs are on wheels and everything around me starts to sparkle, and I didn't know my body could move so fast and how the f*ck is it moving so fast? Yeah, I don't think there's any substitute for that. That's how I know I'm meant to be here, in spite of everything.
How did you start running? I started running on the treadmill at West Chester University. I'd set it to 6.0 (a 10-minute pace) and run for as long as I could without stopping, which for a while was like, two minutes. But I saw myself progress really quickly. Running isn't instant gratification by any means, but it is rewarding in a way that is singularly transcendent.
How can we continue to follow your journey? You can follow me on Instagram and Threads @ brokebutmoisturized, and subscribe to my newsletter at https://brokebutmoisturized.substack.com.
How would you describe your biggest success? Women are conditioned to feel ashamed of our bodies. I am passionate about ending the stigma around menstrual talk. So in alignment with that, I would say my biggest success was running the 2022 Philly Marathon on day one of my period. I have PMDD, and my periods are debilitating. The conditions that day were equally brutal. Miles 21-26 were a fight for my life.
How would you describe your biggest setback ? You know that phrase, "when the going gets tough, the tough get going?" I have never gotten going in a race. In fact, I'll be so down bad that I even lose the will to surge through the finish line with a veneer of vigor. I'm working on that.
Do you have a story that you would like to share, or a runner that you would like to see featured? Send us an email: brodie@philadelphiarunner.com.