by Lionel Brahim Brodie III
The New Balance FuelCell SuperComp Trainer has returned for its sophomore season, and everything about the new enhancements are welcomed. The shoe fits a little wider than Version/Volume 1, allowing for more foot room (obviously) and thicker socks (maybe not so obvious). It rides lower to the ground than the v1…..visualize a performance vehicle that "drops" when it accelerates, allowing for better handling and aerodynamics while minimizing drag and maximizing top speed. Yes, the v2 is a sports car!
Let's nickname this colorway: Margherita Pizza
Super Trainers such as this are designed to give us a race day feel when we're building speed and mileage during our training sessions. An ounce lighter than the v1, the FuelCell SuperComp Trainer v2 unites a really PLUSH super foam and a carbon plate, while the rocker gives you that coveted propulsion and forward movement with less energy. In other words, that super springy bounce is there, and amplified, but it feels more natural. Like "I always drive sports cars! I'm SUPPOSED to be this fast" natural. As a not-so-fast runner (I am more similar to a SUV with nice wheels and a booming audio system), I really appreciate that. Thank you New Balance!
The Tech Talk:
Energy-return technology from race day to a high milage training shoe.
In this execution of new Energy Arc technology, a stacked height midsole houses an arched carbon fiber plate, sandwiched between two layers of FuelCell cushioning, leaving a hollow channel through the middle of the shoe.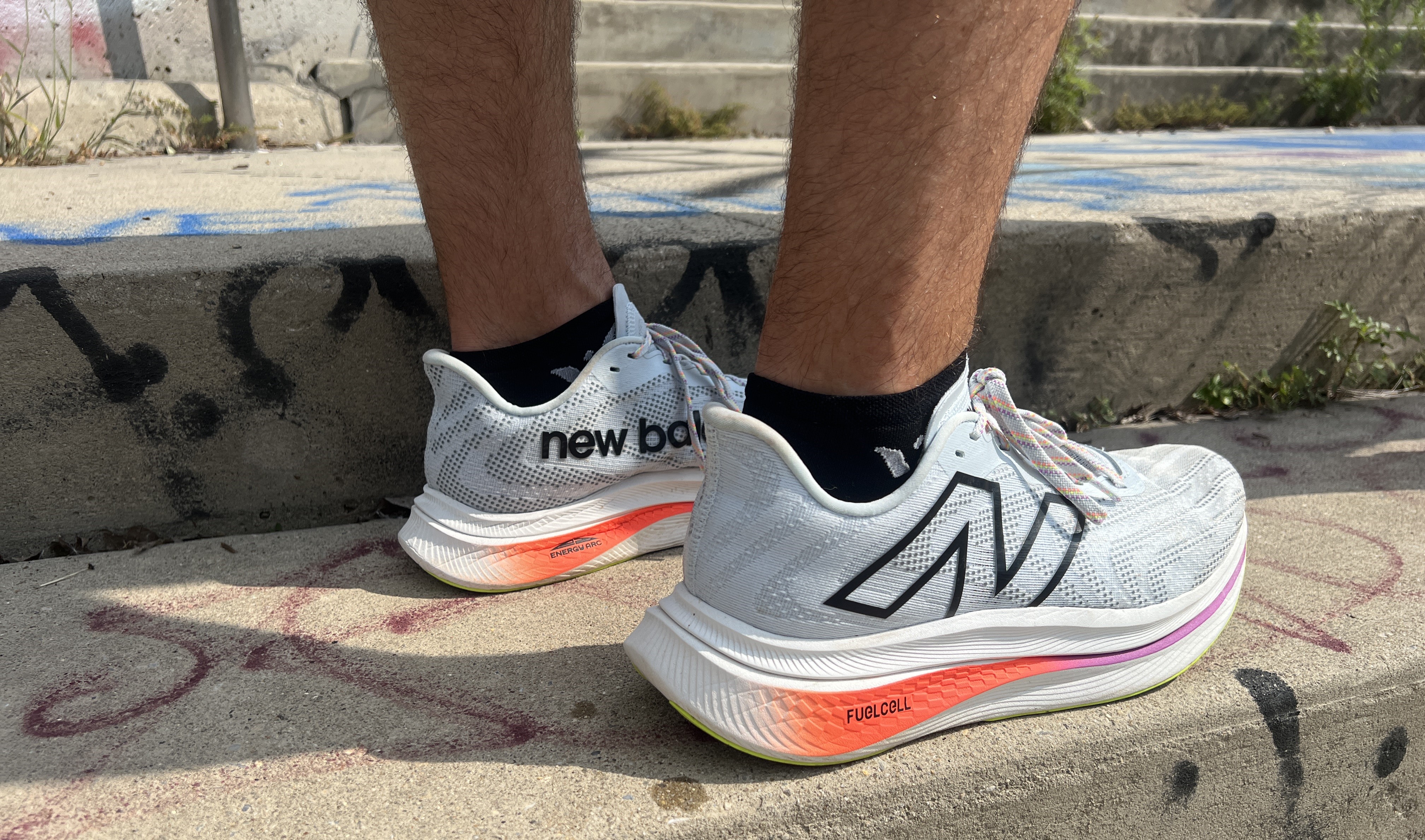 The plate is flattened into the void with each foot strike, and returns energy as it reshapes, creating a high rebound sense of propulsion.
The Specs:
Weight – 10oz (men's), 8oz (women's)
Heel-To-Toe Drop – 6mm
The Key Features:
• Features Energy Arc: Energy Arc pairs sport-specific carbon fiber plate geometry with strategic midsole voids, designed to increase stored energy to deliver a higher amount of total energy returned
• FuelCell foam delivers a propulsive feel to help drive you forward
• Breathable, flat knit upper with lock-in fit feeling
The Finish Line:
The New Balance FuelCell SuperComp Trainer v2 is available online, as well as any of our four locations. Our staff of experts can answer any questions you have about this shoe and other shoes in our shops. Come in, schedule a gait analysis, or order a pair from our online shop today!