by Lionel Brahim Brodie III
The year is 1988. Basketball is my first love. Hailing from West Philadelphia (yes, yes….."born and raised") I am obviously a Sixers supporter. But I'm also a fan of a few players outside of Philly, and in particular, what sneakers they are rocking. Dominique Wilkins is one of the greatest athletes EVER, and he wore Brooks. Homeboy could leap out of the state and was dropping Slam Dunk Contest material during games….over players! As a child I'm thinking, "it's gotta be the kicks, right?" Run faster, jump higher? That's what those vintage commercials used to tell us. HAS to be the shoes, and I could not wait to buy a pair. I just didn't know where to find them…..
Anno Domini 2023. Running is my TRUE love. And I FINALLY get my first pair of Brooks 35 years after watching Nique, contrary to popular belief, win that infamous Dunk Contest in Chicago (sorry Mike). The shoe is the Brooks Glycerin GTS 20, a model about which I have heard nothing but positive things. Confirmed…..it is most definitely the kicks. Lightweight to the touch, the cushioning is PLUSH, and my foot felt secured with each step. I tend to favor leaning to my right side when running, which has led to a painfully (pun intended) long list of injuries, and from hip–to–toe the Glycerin's support is apparent. I felt upright and bouncy throughout the entire run. We don't even have to nickname these: "Chili Oil" is in the actual colorway! I'll use these for short runs (< 5K), interval work, and long "easy" runs as I build up to some fall racing.
I need every color….. and the good thing is, we can get them right here, and at any Philadelphia Runner location.

The Tech Talk:
Max Comfort:
Now featuring nitrogen-infused DNA LOFT v3, super soft cushioning optimized to be light weight, responsive, and durable with plush comfort. Cushioning technologies all start with DNA because they react to your unique stride.
Smart Support:
Innovative GuideRails® technology supports your body in its natural motion path while keeping excess movement in check. GuideRails® support aids your feet, knees, and hips.
Improved Fit:
Plush and breathable engineered air mesh upper offers a secure fit, comfortably holding the foot in place.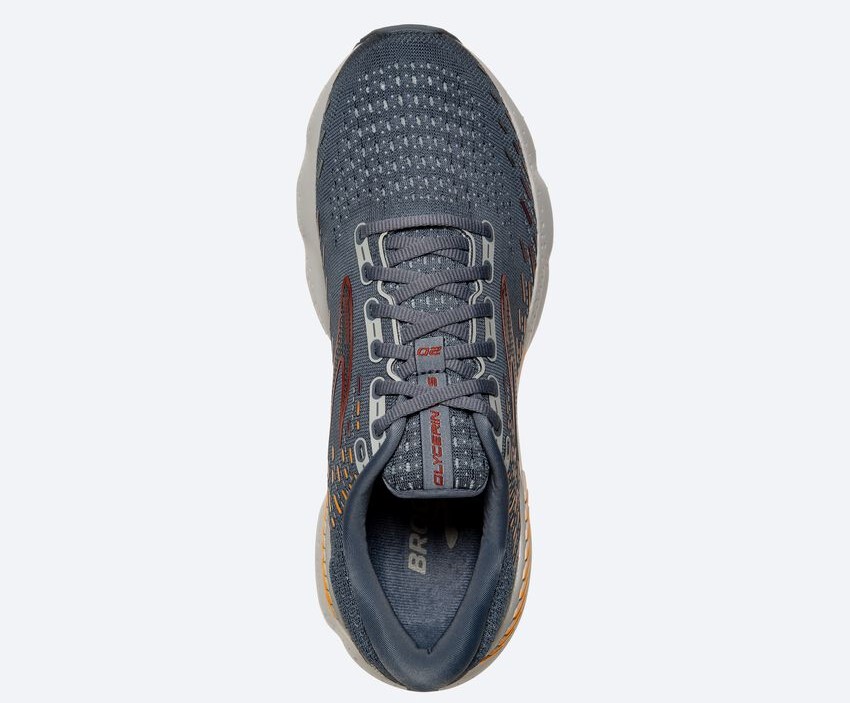 The Specs:
Weight – 10.5oz (men's), 9.4oz (women's)
Heel-To-Toe Drop – 10mm
The Key Features:
• Supreme softness
• New lightweight upper
• Sustainability – 32.4% Recycled materials in the upper. 4.66% Plastic bottles diverted from landfills.
The Finish Line:
The Brooks Glycerin GTS 20 is available online, as well as any of our four locations. Our staff of experts can answer any questions you have about this shoe and other shoes in our shops. Come in, schedule a gait analysis, or order a pair from our online shop today!